Hi! Kelly here! All of us at Click it Up a Notch have been talking about doing a segment on how to display photos in our home for a while now…this is fresh on my mind as I just finished writing a post on this for another blog so I decided to jump in this month as the first post in this segment. I am a little nervous to do this because my house needs alot of work! We need to move & re-decorate plus I have so many projects that I haven started & haven't finished or just have not started at all & so many things I want to change! But here I am to show you how I have displayed my pictures in my home. Thanks for checking it out!
How to display photos in your home
Here's my newest wall, completed tonight! The pictures are just place holders but you get the idea.
The turquoise hanger is from Land of Nod. I need to clip smaller pictures on it. The frame is from Ikea & the letter is from Anthropologie. I ordered the canvas as a collage to fit both of my children on one.
So this may be cheating because my house isn't always decorated this way but tonight it is! I'm decorating for my baby's first birthday party tomorrow & I love using pictures!


I got the adorable picture clips at Party Chic Boutique.
And here's the post I recently did for Kristen Duke's blog below so you can see the rest!
For years I hardly put pictures up in my house because I had trouble picking which ones to use & couldn't decide how to display them. I was afraid I'd change my mind about which ones were up & want to switch them all the time, so I just did NOTHING. About a year I just let it go & started putting pictures EVERYWHERE! Do it. I feel like our house is finally a home (and of course, just in time for us to be thinking about moving). So I have gotten sick of a couple of the pictures I originally put up & switched them out since then, big deal right? When I first started adding pictures to our home, my goal was to go frameless with stand outs & canvases but since then I changed my mind. I don't want to have one thing through out the entire home…that would get boring to me. Now I'm embracing variety. I do like frames in groupings so I'm glad I didn't go completely frameless.
Sorry these pictures are crummy with bad shadows & color…it's been pitch black & rainy all day so I had to keep on the nasty overhead lights for all of these. Oh well….okay…here we go!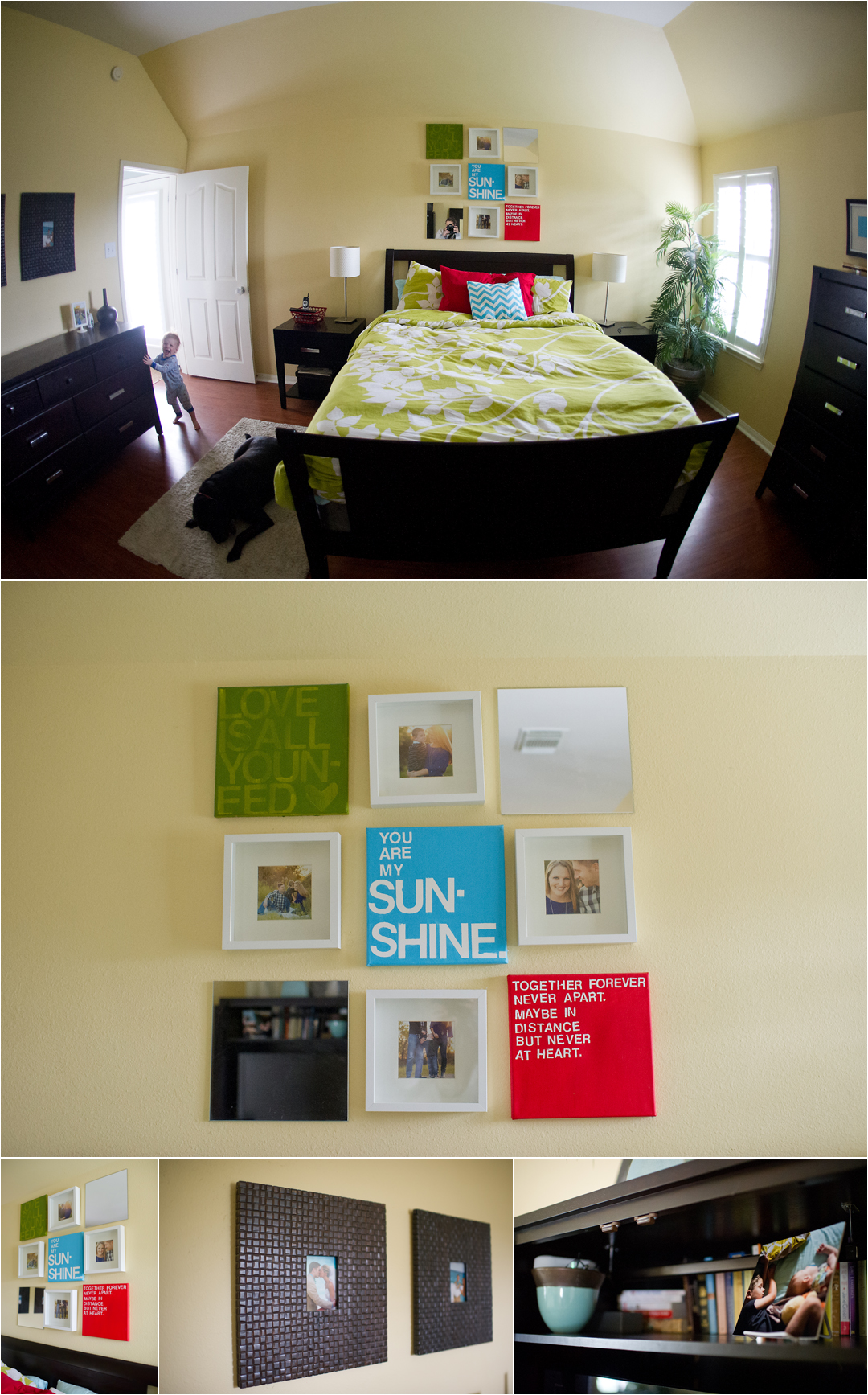 I bought the mirrors & used the 9×9 frames from Ikea to showcase our session with my friend Jodi Arego. I am so grateful for all the friends in the b usiness who have taken our pictures through the years allowing us to have some family pictures! Okay, back to the room…I made the canvases myself. I know, I know…for those of you who do that for a living, feel free to laugh at me! They're not great but I worked so hard on them I just had to use them! The wood frames are from Z Gallery. I like buying prints mounted on styrene & randomly putting them through out the house with picture easels. Super cheap, easy & simple way to incorporate them into the home in tight spaces.

Miles nursery was my project…I started gathering things to use the day I found out I was having a boy. I wanted that Dwell bedding so bad when I had my first child but didn't want to spend so much…this time I just had to do everything I had wanted to do & go out with a bang (it's our last kid afterall!). It was so easy to incorporate pictures with this theme. Dwell has a bus picture frame I bought (along with a board book, puzzles, all sort of fun accessories). I need two more 8X8 canvases to finish the wall above the Ikea shelves. I've picked one from each N, 3 & 6 month session I did for Miles. The 9 month session hasn't arrived yet & he'll be one soon! The right wall was fun to hodge podge together. I chose to do a mix of pictures & homemade canvases. I got modern prints from etsy from all different sellers: urban tickle, parada creations, trendy peas etc. Once again the frames are the Ribba style from Ikea & I made the canvases. I got one of the print designs from Drew Bittel on the momtog blog. Thanks Drew!

This is my newest addition – just finished it yesterday for this post! It was so nice to have a kick in the rear to finish this project…we had purchased it but was putting it off for over a year! I LOVE this decal. It's from Byrdie Graphics on Etsy. Awesome seller with superb customer service :) I bought the adorable little mini clips from Morel Decor on Etsy. Can you tell I love Etsy & small businesses (along with a couple big businesses too..Ikea & Land of Nod anybody?)? :) I used double face tape & cut it into tiny strips to stick the clothespins on the wall. Then clipped my wallet sized prints & now I have a super easy, extremely non-traditional family tree! I only have about 1/3 of the family up there so I need to get busy taking pictures & adding to it!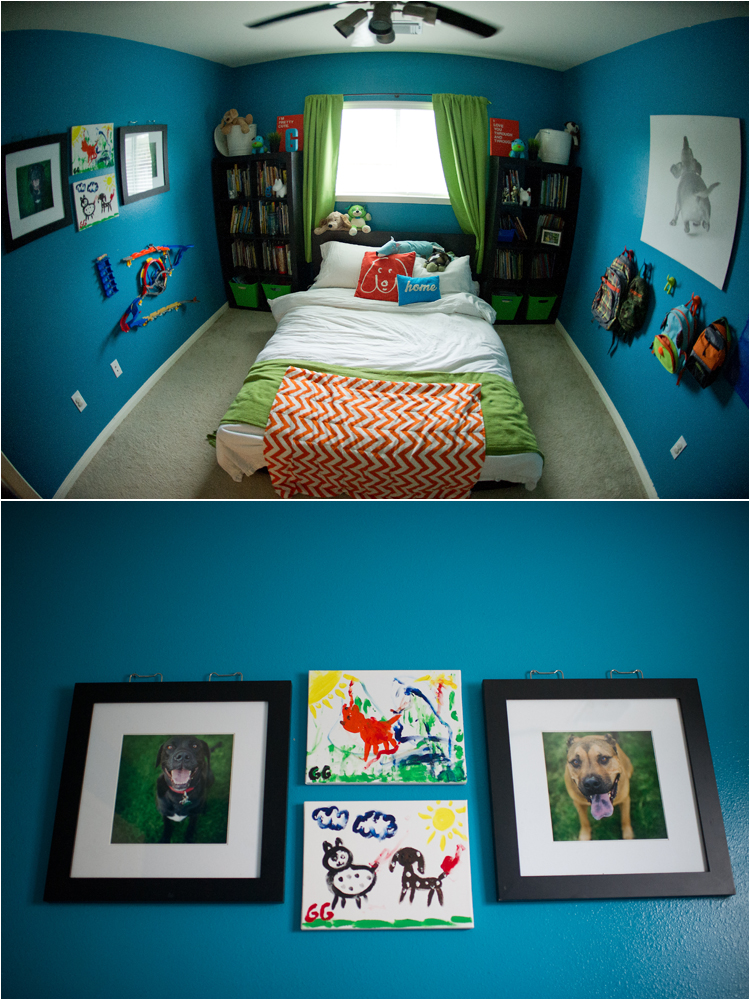 I just try to incorporate pictures in my home in anyway possible! Here are pictures of our doggies for my son's dog themed room & I let him make the canvases…well I helped a little :)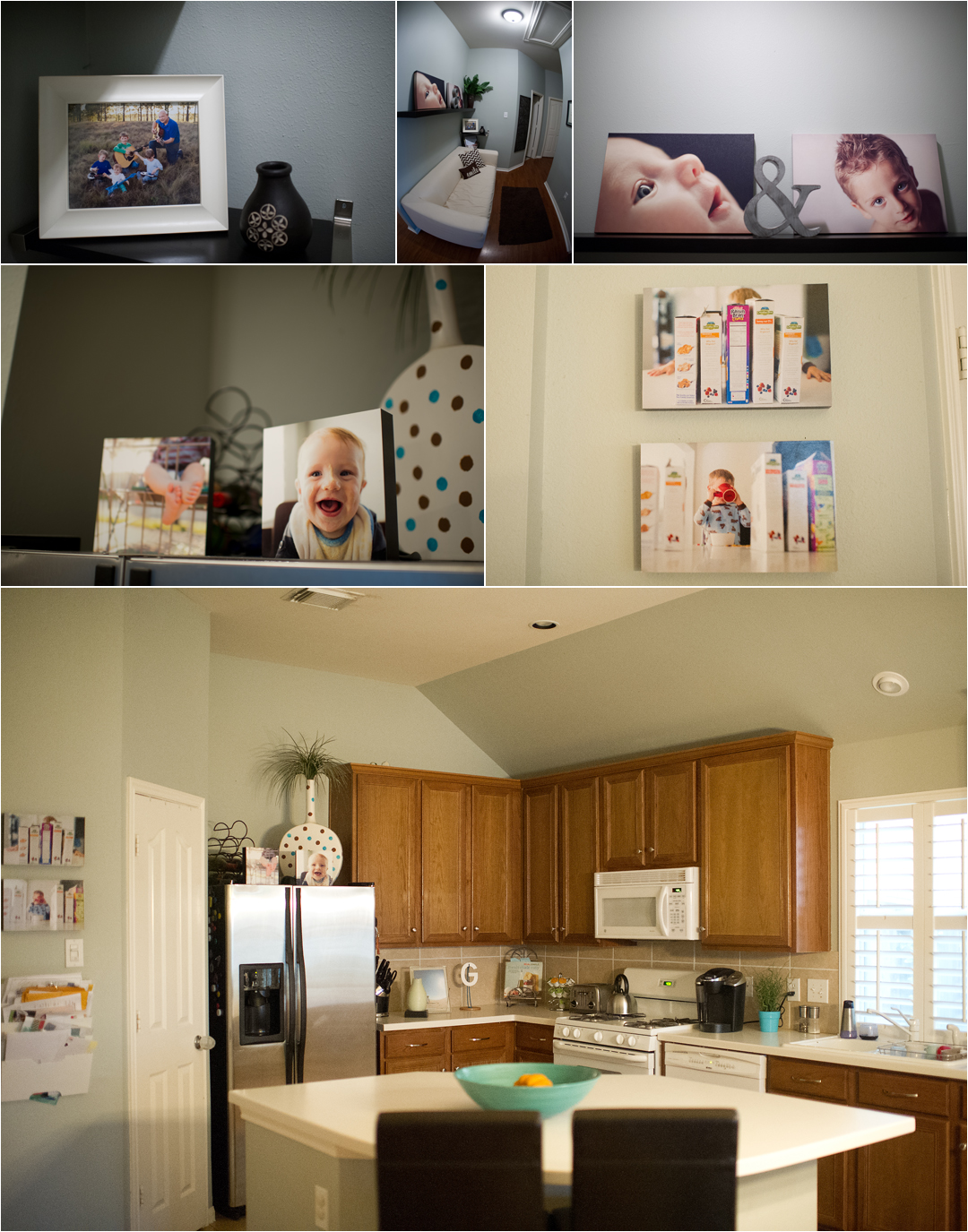 Her are random canvases & standouts through out or main living spaces. I am trying to stick with the food/kitchen/grocery store theme for what I show in the kitchen. My next standout purchase for the kitchen will be a picture I have of my boys in the shopping cart together at the grocery store.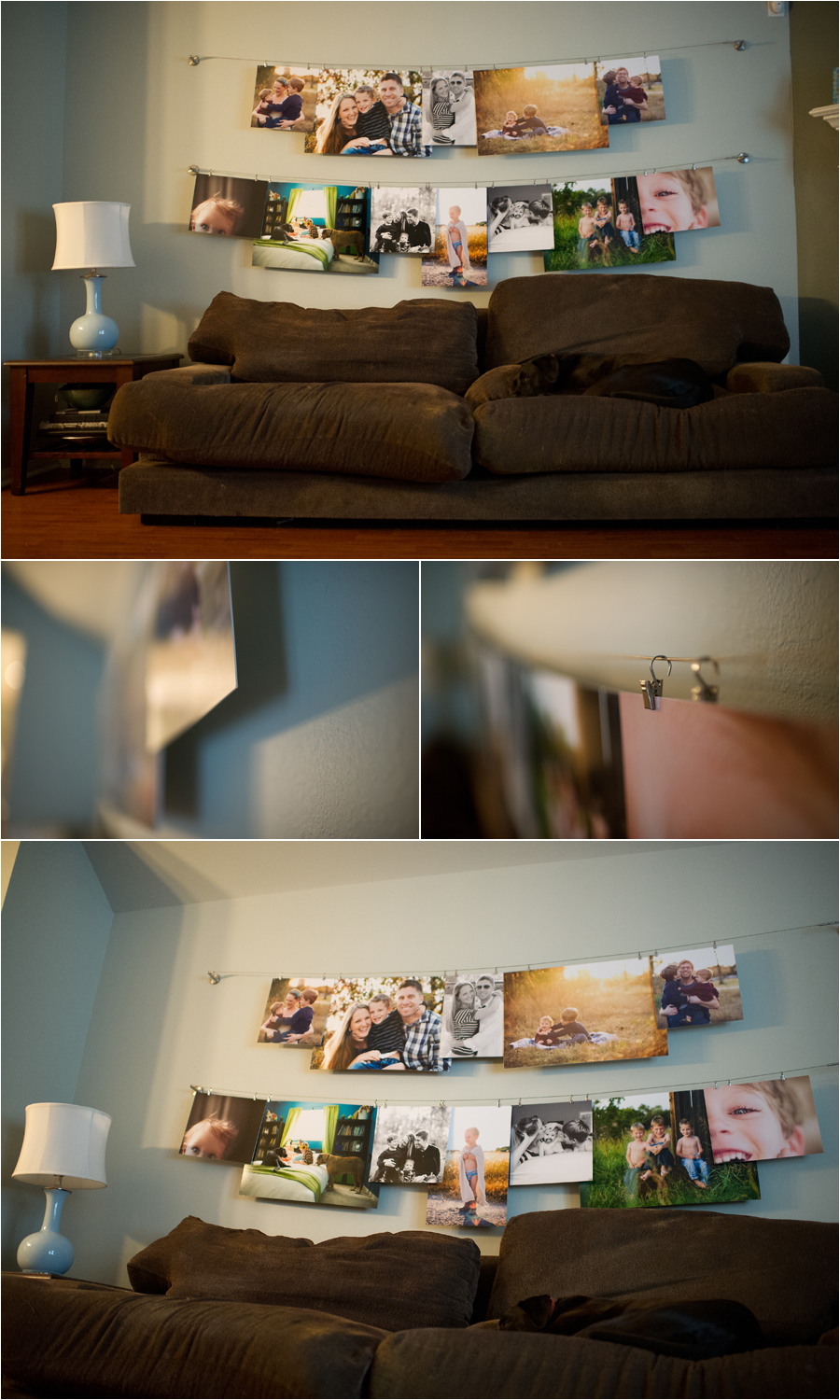 Here's our picture explosion in the living room made with Ikea wire & clip hangers. I use prints mounted on styrene or foam board for this from Millers Pro lab.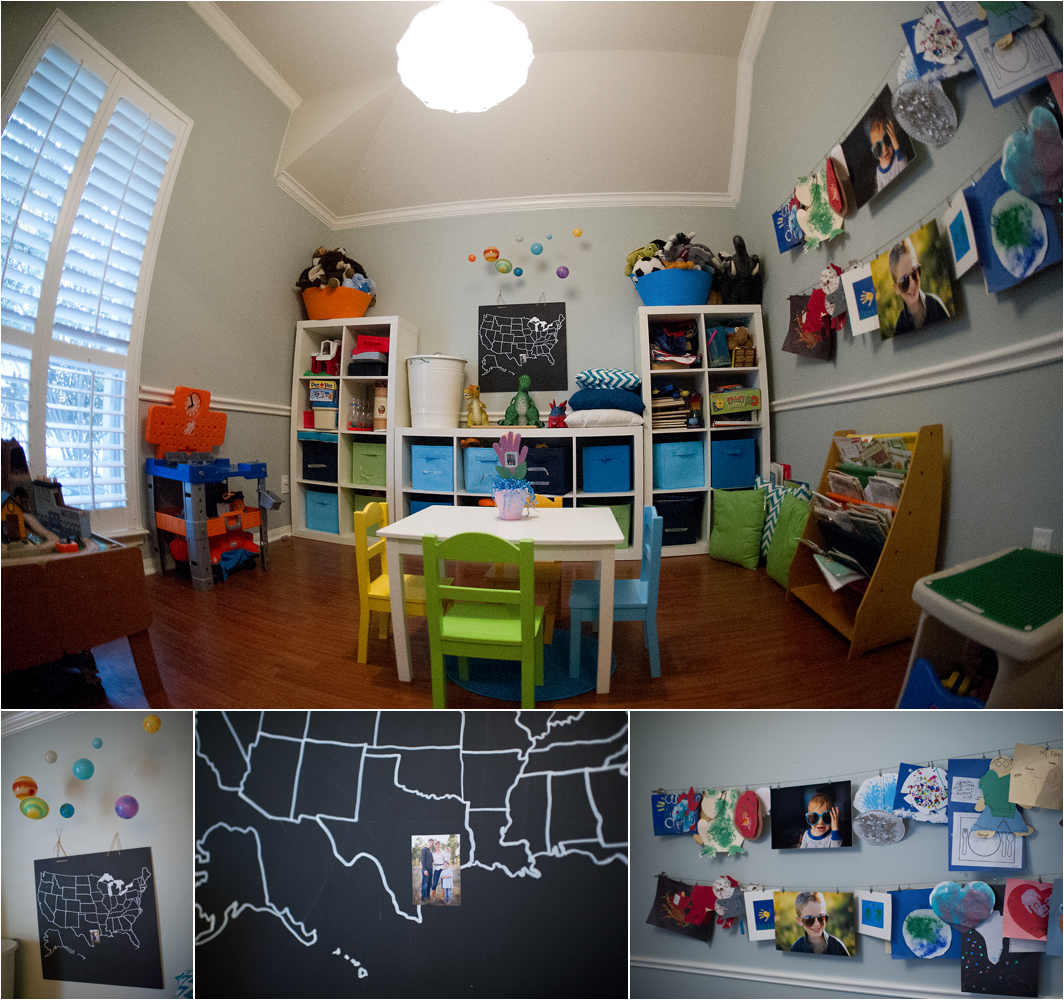 Here's the playroom…it looks like a bomb blew up on a daily basis :) You better believe I moved over some massive piles for picture taking purposes! Again, I use the same Ikea wire & hangers for artwork & some random pictures. I bought the chalkboard from Etsy (hannahjm) when we started teaching our oldest about states. We added a picture to show him a visual of where we live.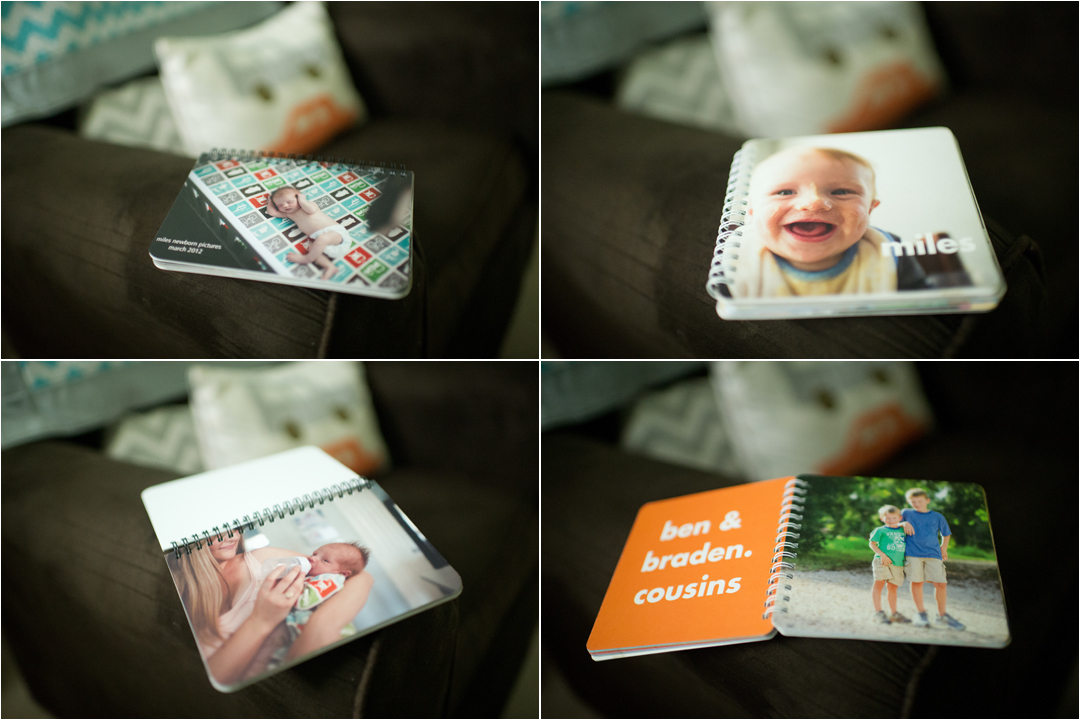 I am about 6 family albums shy of being caught up from the past couple of years but here & there I try out little projects that are easy, quick & not overwhelming just so I can try new vendors. I ordered the names & faces book on the right from Pinhole Press for Miles to learn who is who :)
I got a spiral album made from Color Inc Lab (left) from Miles newborn session with Sara Seeton.
Learn the EXACT techniques that I use everyday to photograph my kids. Stop feeling frustrated with your DSLR. Let me help you with this FREE webclass.
Yes, I want this!