Many of you may remember the Top 10 of 2010 that I participated in hosting with several other bloggers. Well, we had so much fun seeing all your fabulous photos that a few of us decided to continue the theme of showing off our photos by doing a Quarterly Top 5 Photos hosted by myself, Amber @ Amber's Articles, and Sarah @ Nap Time Momtog.
Here's how it works:
1. Go through the photos you have taken of your kids or pets (I remember how my pets were my kids before my kids were my kids :O) Just choose photos taken from January 2011-March 2011.
2. Post them on your blog or flickr account on March 30th-April 6th
3. Link up with the linky either here @ Click it Up a Notch, Amber's Articles, or Nap Time Momtog.
4. Put our button on your post. If the button is not there you will not be eligible to win.
Now here's the exciting part! Actually this part makes me wish I wasn't hosting it and I could participate to WIN!! We are having a giveaway for all those who participate!! Two, yes two, winners will be choosen. It is a random drawing so this isn't a photography contest.
One lucky winner will win this Shutterbug Necklace from the Vintage Pearl. Be sure to head over to their website to see all their amazing jewelry.

Another lucky winner will win this Mom's Gonna Snap by Clickin' Moms (You all know how much I LOVE Clickin' Moms) So while you are over at there store be sure to join in the community of AMAZING photographers who love to encourage and help each other. I already have two of their shirts and LOVE them! In fact, I think I'm going to head over and buy this one for myself.

The winner will be choosen April 7th!!! So remember this is not a photography contest. It is a random drawing you can participate in just by linking up your top 5 photos of your kiddos! Also, we will be doing this each quarter for 2011 and will be hosting a Top 11 of 2011 at the end of the year.
One last thing, while you are looking through all your photos start a folder of your favorites and PRINT THEM!!! I can't stress enough how important it is to print out the photos of your kids OFTEN!! You don't have to have high hopes of scrapbooking them, even if you just put them on your fridge. I have some magnetic boards in my living room that I put up about 40 at a time and change them out. You will not regret printing these photos!! So take the time now, since you are already going through them for this Top 5 photos share to pick those favorites and get them printed. If you are looking for some great photo labs with professional quality check out my post on – Photo Labs.
If you are planning to join in the fun and we sure hope you are, please enter your information in the linky below. Remember this is not your entry for the giveaway! You must link up your photos on March 30th-April 6th. Grab this button and share it on your blog so others can join in as well!!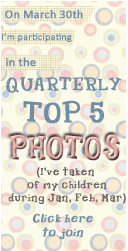 I can't wait to see your Top 5 photos as well as reasons why you LOVE them :O)
Learn the EXACT techniques that I use everyday to photograph my kids. Stop feeling frustrated with your DSLR. Let me help you with this FREE webclass.
Yes, I want this!